Saturday, 9th January
Back in the studio- despite the lockdown being prolonged for a substantiate period of time. It is a pity that I won't be able to see Joseph, Ben and Adriana any time soon because of the social distancing rule, as it would have been really great to hear about each other's projects, continuing discourses and having critic sessions.
Regardless, I have been continuing what was left off from December and managed to play around with the visual elements available. I tried to keep my chain of thoughts to the symbolism or figurative existence of the 'transfer student' and will be focusing on work#3 for the time being. The hand gesture of 'friend' as I have illustrated them below, started to actually look like fishes (koi fishes were also a major symbol in 映画 聲の形). And as cringey as it may sound, a school of fishes! haha.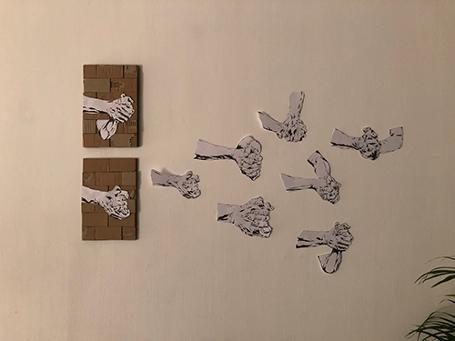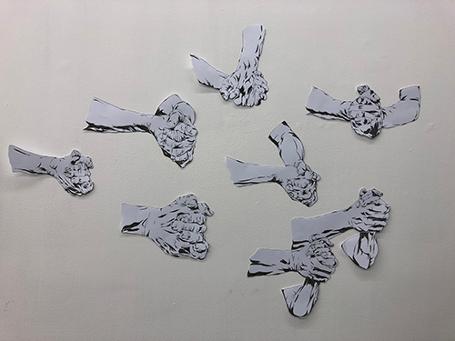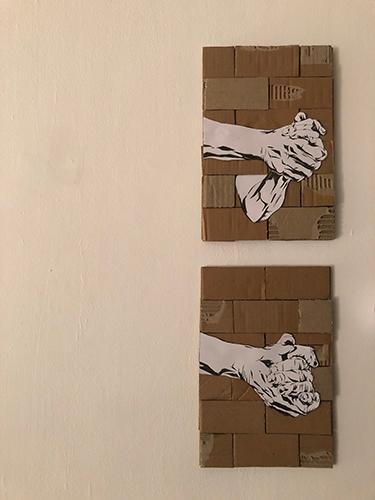 Basically these are compositions that I have been playing around with. I am starting to question what sort of sculptural shape that is appropriate to be constructed out of these materials, especially since my current exploration has been nothing but flat, 2D-based.
It seems very plausible and personally attractive for these pieces of cut cardboards to form some sort of backdrop or canvas for a potential 2D representation of the work but in terms of the final installation, I still have yet to come up with a shape or at least several choices of shapes that I am content with.
I do however, enjoy the possibility of the hand gesture or the sign language per se, to be a much more robotic representation of 'fishes'. It seems to have potential for this to be further explored, despite it has moved away from its initial conception of the work.
I had initially wanted to cast my hands performing this gesture, sort of immortalizing it, very much like Louise Bourgeois's bronze hand sculptures, and install these on top of the structure or parapet that was to be constructed with these cardboards. But with this development, it seems interesting at the same time, to actually present this gesture live, and immortalize the bread-feeding as a sculpture instead. Definitely something to ponder upon.
But again, I feel I have found some sort of point of contentment in terms of representing this piece as a series of 2D works- one possible aspect of 'documenting' the performance/installation that I have personally found to be rewarding in relation to my past and recent live pieces.
i feel that the next stage will be to take more photographs of this sign language/gesture and produce more drawings to amplify the 'school of fish' visual.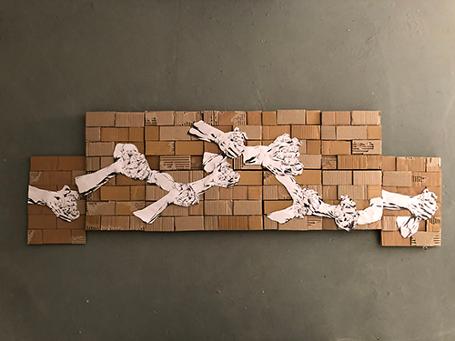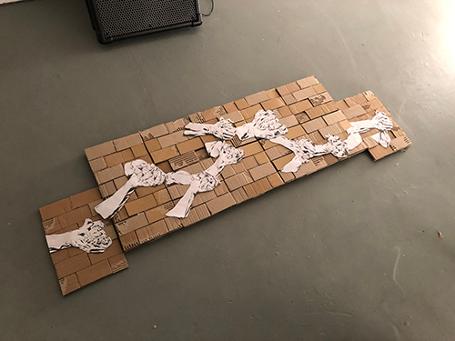 Wednesday, 13th January
/////////H///////////////A///////////////C/////K///////////////I///N///////////G//////////CO//////////////M///////////P///////////L//////////E/////////////////////T////////////////////E
After being in the studio alone, surrounded by quietness, I was inspired to pursue another piece that has been at the back of my head for months now. The project borrows the visual narrative of NieR:Automata, Square Enix's 2017 action RPG which recently made it into FFBE:WotV- the virtual realm I have been existing within the past nine months. i have heard of NieR and the praises around its success but I have never had the opportunity to play it- while at the same time, action RPG is not really a gameplay I fancy very much. However, after it made its collaboration into WotV, my guildmates started to share with us the story revolving the characters- and I have to admit my first initial attraction was through its character design.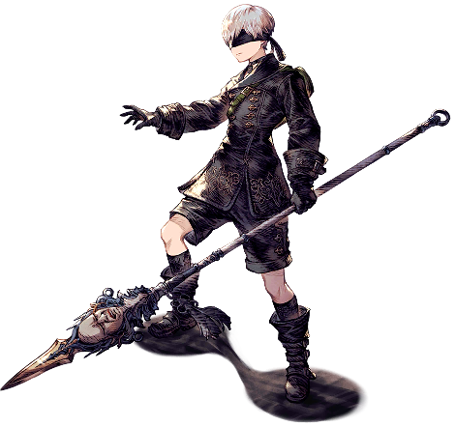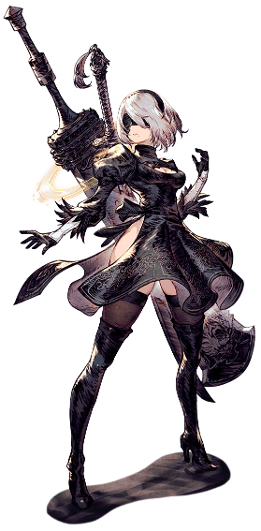 I enjoy the approach of blindfold as a distinction towards super human. Well, basically, the two characters above, are not humans, they are machines, AI, robots, cyborg to speak. My interest upon this sort of super human was reflected in my MA dissertation that focuses on Hatsune Miku and VOCALOID as some sort of goddess through her speech deliverance. But the eyes, for me have also been a recurring body parts that visually represented/presented in my works.
The image below on the left, is from Nothing to be done, 2015, a performance-installation presented in Shibuya, Tokyo, while the one on the right, an artwork from Sakakibara, the infamous 1997 Kobe child murderer who was the canon of my residency research in Tokyo, also in 2015. This was a result of how I have been taking my personal insecurity as the main focus of my works- in this case, my strabismus.
Peculiar that, revisiting the materials that I had worked during that residency was somehow still echoing eerily to how this current interest has been developing.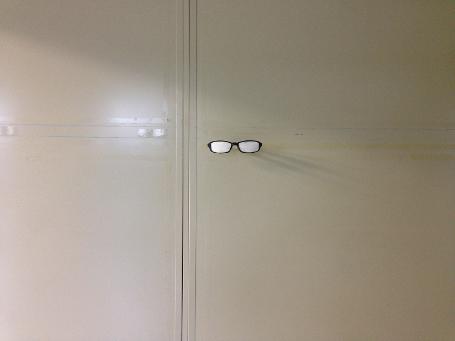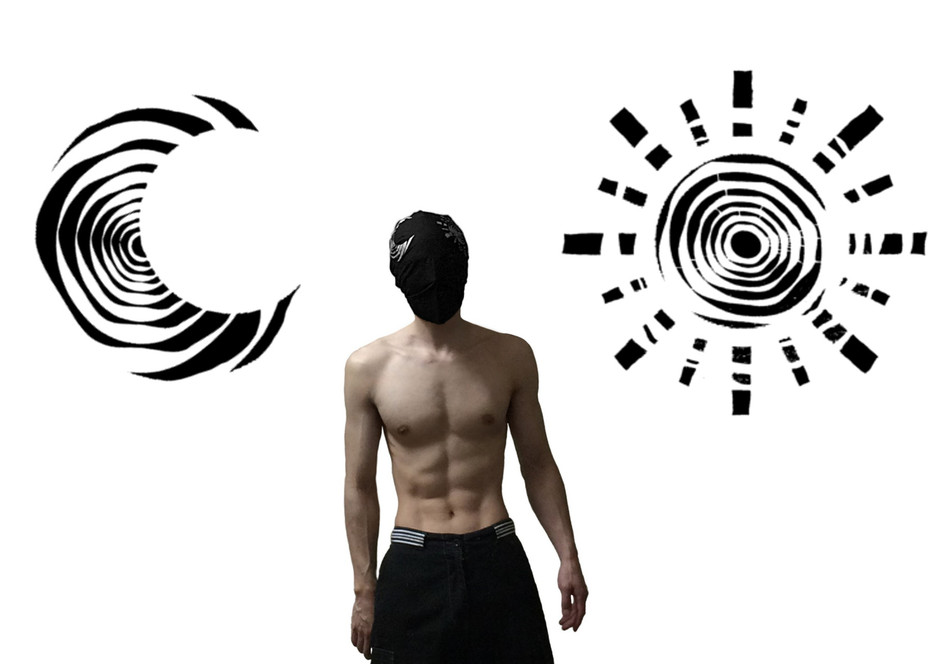 The eyes for me are also a prominent element in my live presentations, where I often utilized the gaze to make connections with my audience during the beginning of past pieces. Staring/gazing onto my audience, scouting around the room has become the prologue of many of my performances, and I have found that technique to be a great success in the attempt to connect with my viewers. I could 'converse' and share a certain kind of energy that I hoped had lured my audience into experiencing the works more comfortably, and critically.
But in recent years, I have also found that such openings have possibly been abused. I have become extremely comfortable, dependent and ultimately ignorant of other possible ways to introduce the performing body/ies within the live space. Within the last year or two, this drove me into experimenting performance through the focus of specific limbs- the feet in Forcing Hyacinth, 2019 and the hands in many others. Despite so, starting with the gaze have become a reflex that I plan to challenge.
Revisiting the eyes for a little bit, they are also for me, what makes an individual identifiable, arguably what makes a human, well, humane. Popular culture has often dramatized the portrayal of the visual organ, colored retinas suggesting demi-human so to speak. In the narrative of NieR, which I am approaching as the canon for this work (hence this exploration could also potentially fits as a fan fiction or fan art of NieR), the AI/robot/cyborg have to cover their eyes to sort-of, awaken superhuman abilities. The reason, according to its director Yoko Taro, is to allow them (they are actually called YoRHa units) to 'see' things that the eyes can't normally see. I find this notion very interesting, intriguing if it were to be practiced, or at least attempted within performance actions.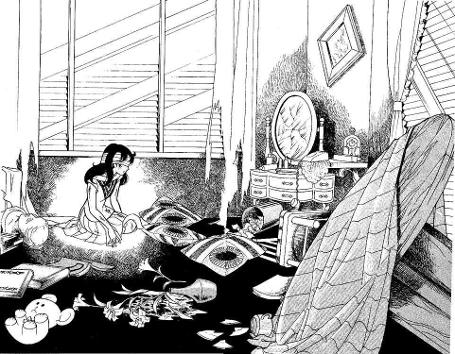 That reminds me of Suzue Miuchi's 1976 shojo manga, ガラスの仮面 (popularized as The Glass Mask), a narrative I have drawn countless inspirations and references from. The main character (who is an underestimated young actress) was given the role of Hellen Keller where as she was preparing herself for the role, shut herself out from the world, stuck cotton buds onto her ears, learnt sign languages, lived in solitary- and of course, blindfolded herself.
The pandemic of course, has left me 'practicing' some of these for the past months, solitary and lack of social interaction has left me not actively speaking. But I am still seeing, I am still watching, my eyes are still observing. I am worried, that if an opportunity were to present iself for me to present a live work in near future, the gaze would dominate the work even further. While I feel there is nothing inherently flawed about that practice, it is personally not what I would like to achieve.
So, in my next visit to the studio, I plan to start isolating my eyes for a short period of time, hopefully improving the duration over time. While I have been able to do my daily physical exercise at home, this is not one that I can practice in my flat- and it seems within the next four-five weeks, the studio provides itself to be very apt.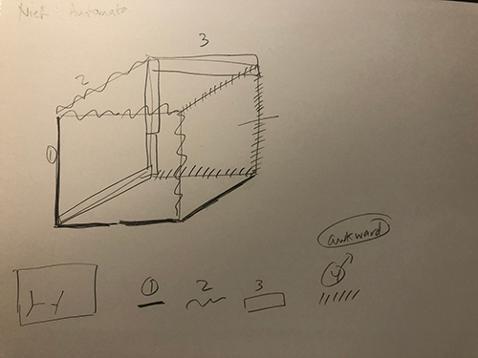 And since I have also been very much into gestural studies and muscle memories, just an idea of how the exercise could potentially develop into a work.
Basically, the sketch on the right is a plan to construct a cube using hand gestures, four sets of hand actions that imagine a... well... cube. Anyway, this is still a very hazy kind of plan but yeah, borrowing the narrative of NieR.
Ever since my dissertation on VOCALOID, I have been attempting to involve 'the computer', its language, conversing in matrices, zeros and ones. It just seems... appropriate to start incorporating all these interests together and try to make sense of these fragmented stimulus into something. Not really sure if it would work, but worth a try I think :)
////////////////////////////////////////////////////////////////////////////////////////////////////////////////////////////////////////////////////////////////////////////////////////////
Friday, 15th January
It was really nice to see Joseph, Ben and Adriana in Zoom today, catching up on each other's works and current investigation in our respective practices.
Joseph and Ben extended the invitation of the Salon project- which sounds really exciting where we invite two guests and the two would invite one each for a session of discussion and chat basically, one that may be guided through a theme- or two. Will definitely explore possible ideas about this.
The conversations reminded me of the last few crit sessions we had during our last term with RCA, where most of us were struggling to adjust to the sudden disruption with our access to studio and support- especially as we were preparing for graduation show. It is for me, interesting to revisit this topic, questioning functionality of our practices that looking back to almost a year prior, still is very evident. Worrying as it may seem, I do enjoy the question/s, to be asked over and over again, to be points of reflections and reminders in the hope that it motivate instead of the opposite.
And surely, hitsuzen strikes again.
I enjoyed Adriana's proposed notion of approaching performance practices like gardening in the desert or, non-bordered gardening so to speak. Taking Jarman's garden (which I was very glad to be an audience of a version of it when it was shown in a rooftop exhibition in Peckham several months back) as some sort of representation towards the question: What do we ask of performance?
A proposed answer: Performance as new logic to be encouraged- instead of perceiving its restriction (economy and practicality) maybe it provides some sort of solution that has yet to present itself physically, or visually.
Come to think of it, Miku herself has been questioning her existence through countless songs produced by different composers over the span of fourteen years. Her recent existential crisis has been a little bit more apparent with recent productions- which maybe, subconsciously curating the way I think towards my own... work?
Below is 初音ミクの消失 -DEAD END- by CosMo, released in 2009, only two years after her so-called birth. The song was arguably the basis of the previously mentioned dissertation, titled only a girl can save me now.
and RT Tammy Chan from comment section: "She's singing fast because she doesn't have much time left. This shit's dark...."
PS: The song's speed peaked at 240BPM, almost humanely impossible to be sung.