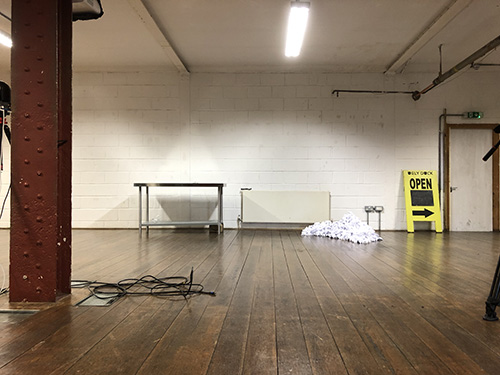 I finally settled on the installation that will become my performative stage/spot for the event. Nothing seem to have changed that much but the photo documentation on the left reminded me of the importance of lighting. The inverted trapezium shadow cast by the stainless steel table as well as the semi-invinsible trriangular reflection on the wall really echo Darshan, the mentioned project with Mariona in 2012. Color-scheme wise, I am very satisfied with how they go well together.
But of course, these are the blank canvas, as during the actual performance/evening itself, the room will be lighted pinkish as well as other color source from other performances.
Regardless, I feel that revisiting a 2012 work and presenting it again (despite a rather different context) also sums up the entire purpose of this year, to reevaluate my practice all these years. There is so much about this installation that is a result of various experiences I've had- from responding to space, developing my own aesthetic towards queer minimalism and semi-abstraction, amongst other things.
I would hope that when familiar audience sees this work, they could find continuity and consistency of my creative language which I would like to believe that it has evolved and matured over the years- and hopefully will develop more in years to come.
I genuinely believe this evaluation and learning experience weighs more importance than the exposure of being an artist.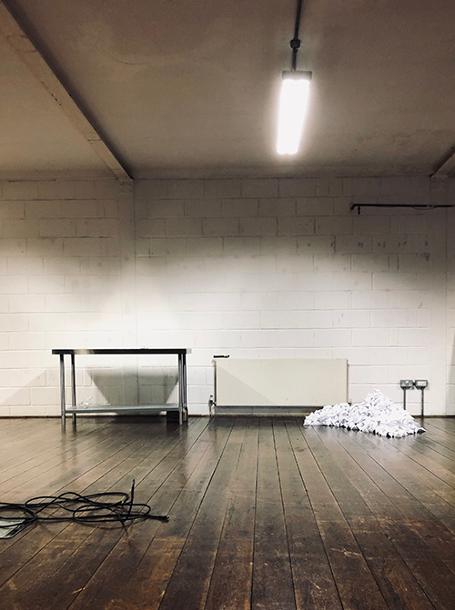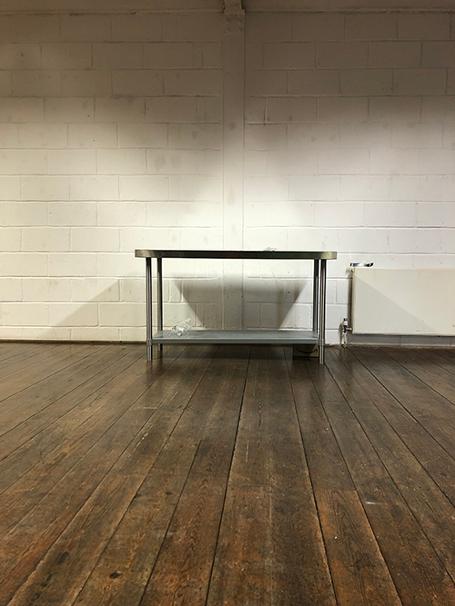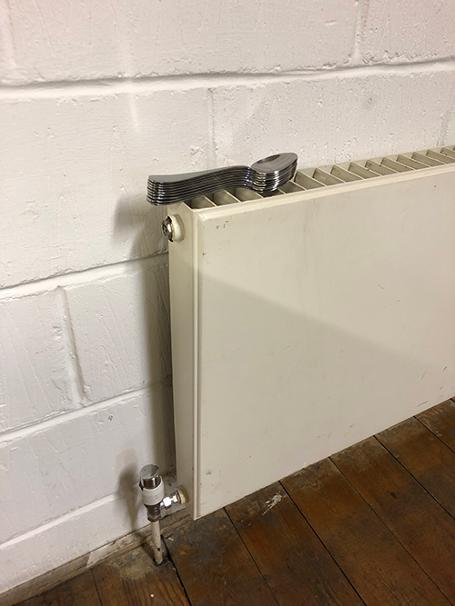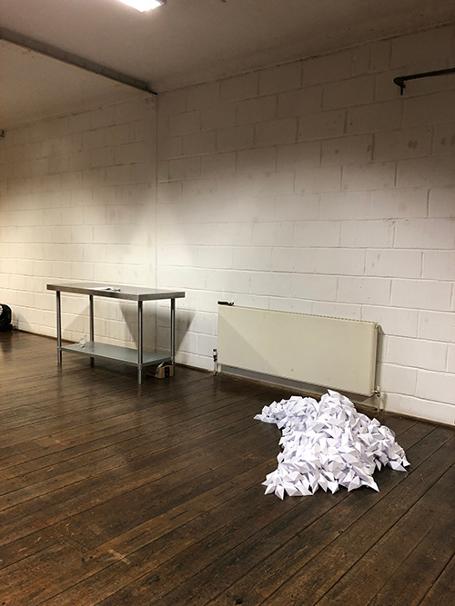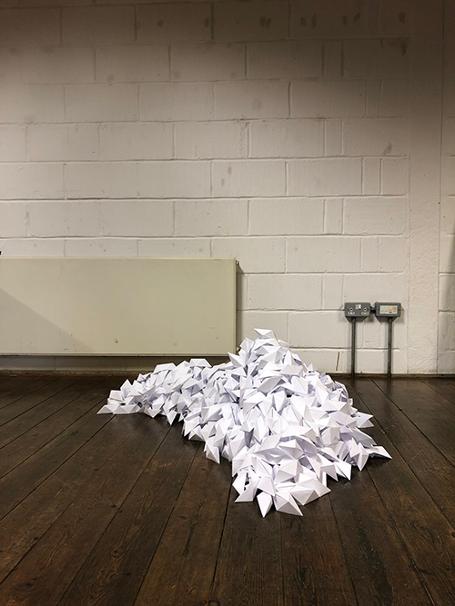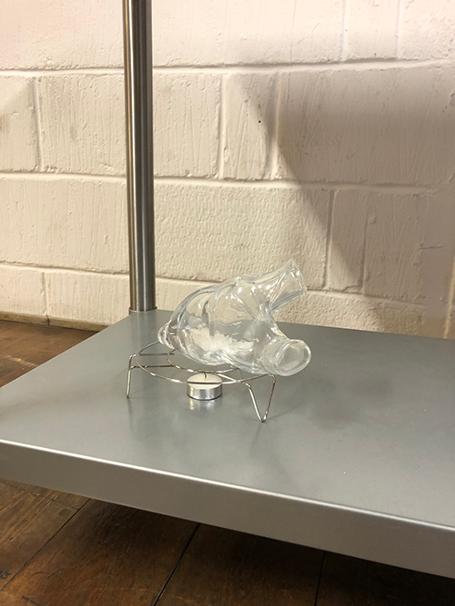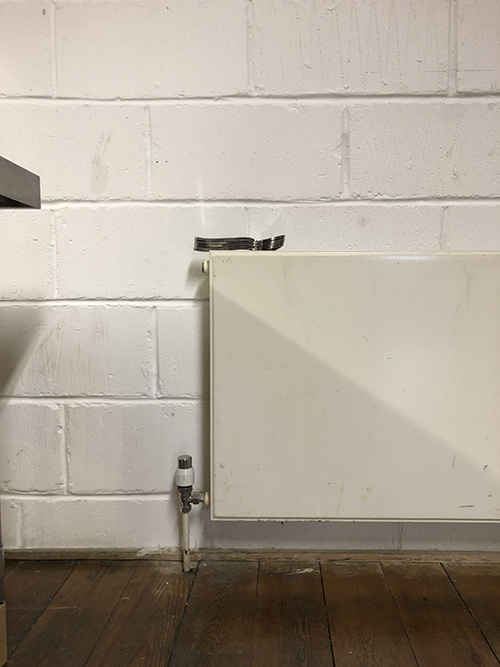 I don't quite see this work to be replicated elsewhere in its 'entirety' as I'm glad you're badgood too as I had mentioned on last week's entry, is more like an intermission. It is like taking a break to digest the works that have been produced under the narrative of Good Boy and how it will move forward. I also feel that this work in particular really responded with the 'now'- the space, the event the livestream, the request, the collaboration, the cameras, the weather, the residency. The whole experience has been wholesome that the work belongs within those frames, those energy and assistance and support for which the piece would not have come to fruition.
I will definitely revisit the elements as they shall be recurring designs, but how and when and where has yet to be decided.
I have been thinking a lot about Good Boy in these two weeks. How it is synonymous to Gordius (another floating concept that highlights the very early development of my practice) is uncanny and of course, not by accident. It seems Good Boy as a creative research falls under this category- as it is not representable (at least for now), in a work, but a series of many. In fact, Good Boy exists within my subsequent works to come, each of its elements will appear in my other pieces as it represents my current artist statement. This is a valuable realization and reminder of my practice as a whole- such an apt learning point to close the year of 2021.
The performance was presented over two evenings, the open rehearsal with a slightly shorter duration and way smaller number of audience followed by the actual public, ticketed event. I have been very adamant about 'rehearsing' performances as more than often it loses its surprise, even for me as a performer. And truly, it did for this work. However, I am. very much glad that. the rehearsal happened. I think I am developing my artistic direction to be a more robust union between visual and performing arts, choreography and responses, queeues and the unexpected. The rehearsal evening was very productive as it helped shaped the piece, and I do consider the rehearsal performance to be THE performance nonetheless. So I think this is definitely a mode of working I plan to adapt in near future.
This piece also brought upon the notion of bricolage which also a term I have used in my artist statement but have never really put much thought on it- until this opportunity and also during one afternoon with LPS when a group of MA students of Goldsmiths came for a studio tour and one student/curator asked regarding my approach of bricolage. I will discuss more about this below on LPS segment of this entry.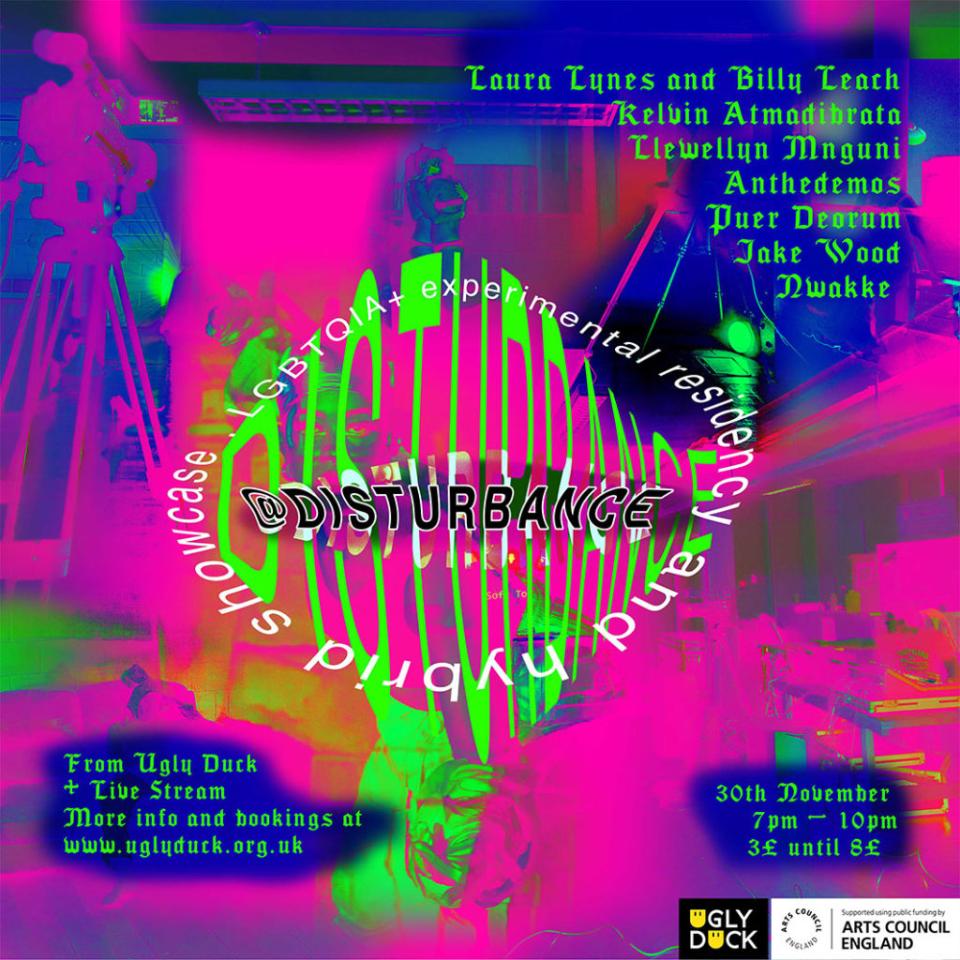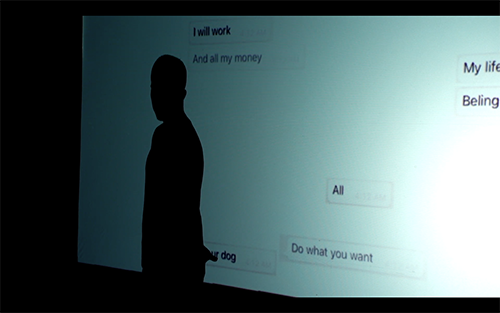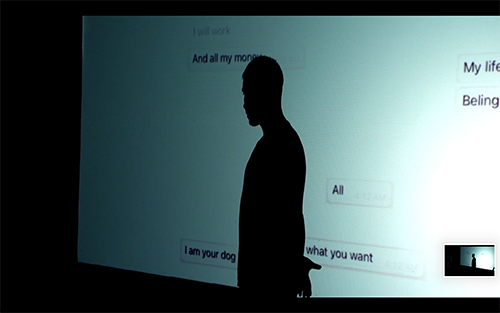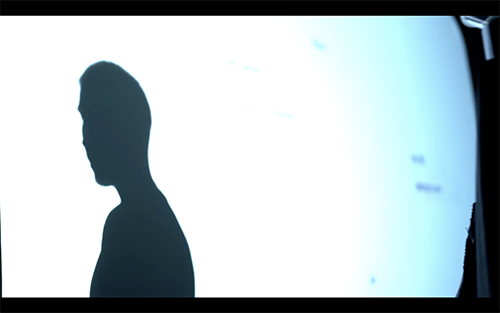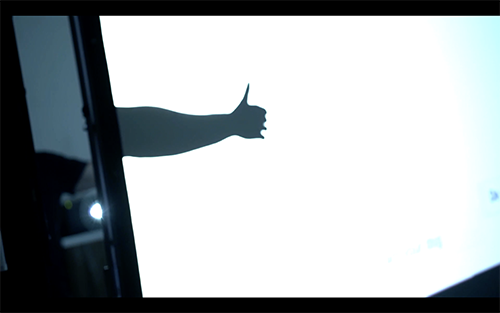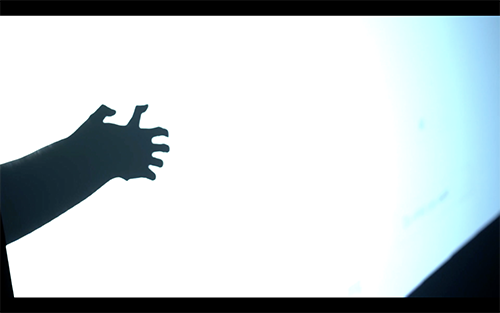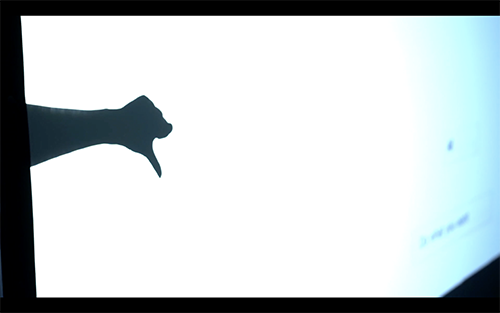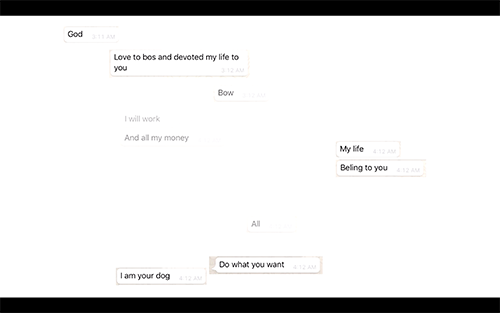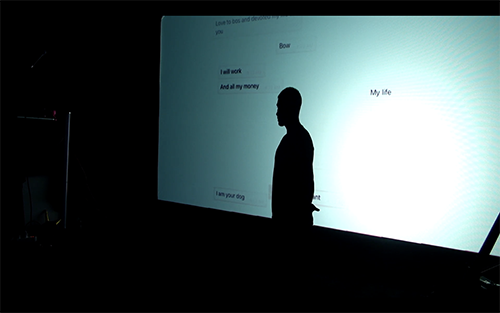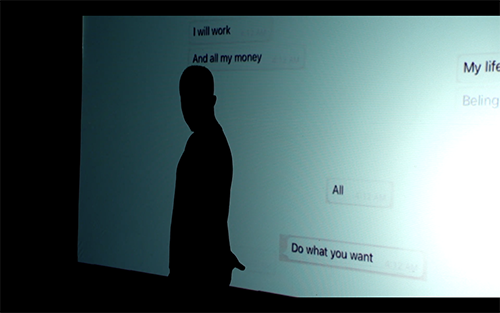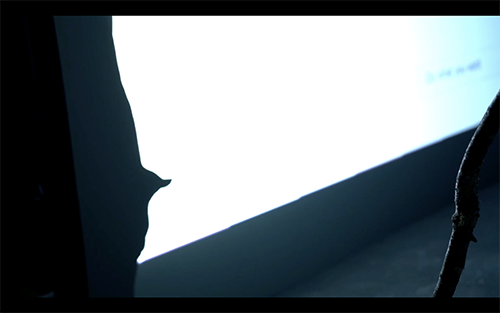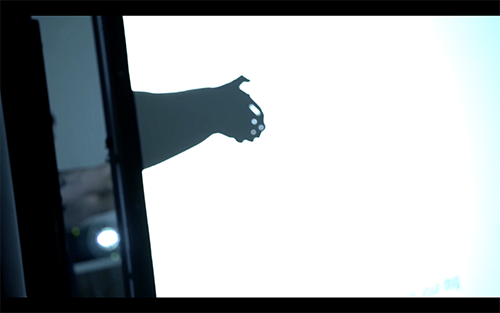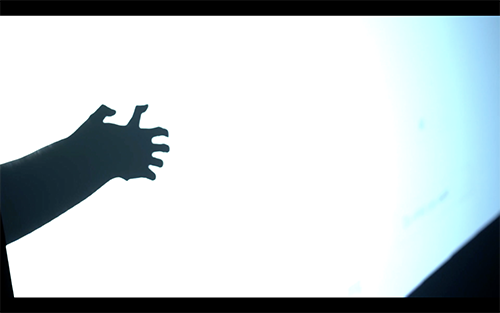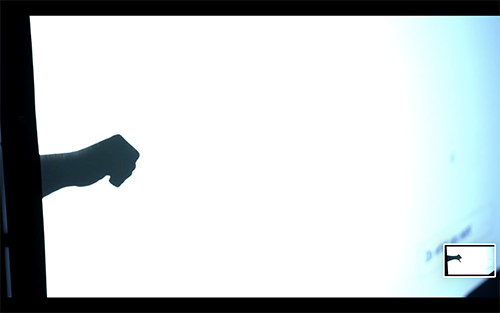 So the performance.
All these images are snapshots from the perspective of the livestream audience. I would say about half of the piece was in active collaboration with Deen Atger (curator/producer), Robert Hall (livestream wizard) and Graham Trelfer (camera operator). They have been such active participant in creating this presentation that my position as a body and material became clearer than ever. I felt I was half actor/dancer/mover and half artist and I found such great satisfaction in playing the role. The work in my opinion became richer visually, narratively more coherent and choreographically more spot on.
I still controlled what to be shared that I feel retained my position as the maker but through what is shared, Deen, Robb and Graham joined in with their respective histories and physical narratives that helped to bind my inspirations together.
I enjoy hearing comments and feedbacks on what didnt work in my performances but in this opportunity specifically, the question didn't need to be brought up. As each potentially failed aspect was mended before it could occur and it became an exciting challenge for me to make sure things did work out in the end.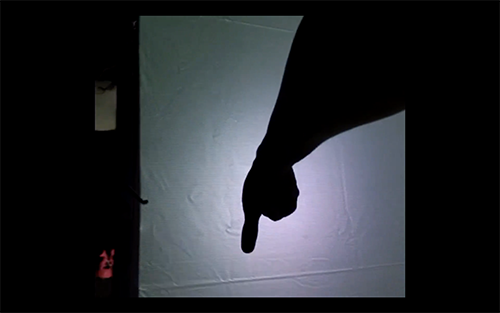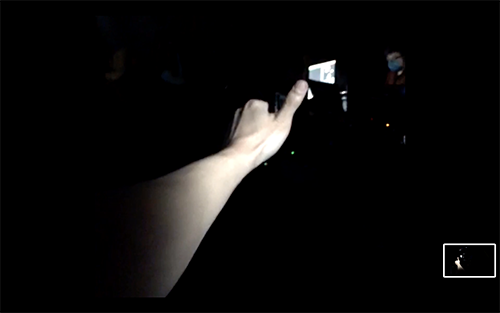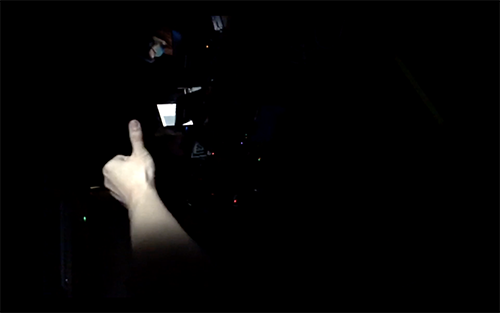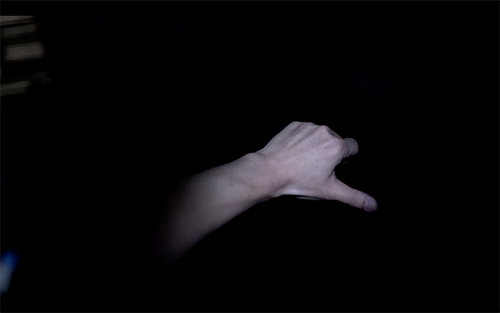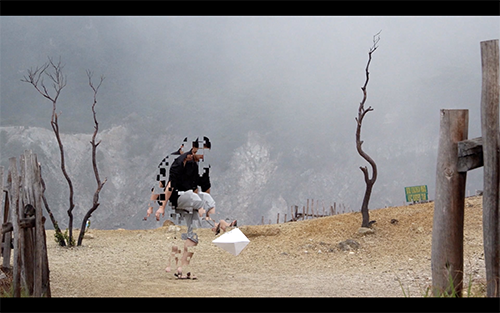 The performance started with selected unsolicited sexual texts in the screen, accompanied by me introduced in shadow. my thumbs protruding out by my buttocks, as if they were small tails. As the body exits the screen, the shadow disappeared, the tail turned into a thumbs-up gesture, accompanied by my other hands in creating images that may hint canine-like. My body then stepped out into audience's view despite the dark surrounding, holding a mobile device that records the continuous thumbs-up image as I walked through the audience towards my designated stage.
I had also shared some images from Tangkuban Perahu (2012) with Rob as he used some of them and manipulated them digitally as a visual companion/guide that hopefully leads the audience into a certain narrative. Accompanying the body and image projection was also the synthesized voice reading the text messages, mostly in Indonesian.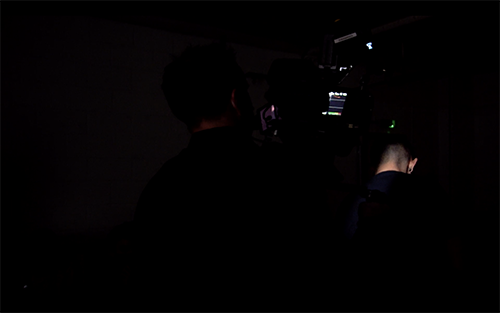 Graham was following me with his camera, hence the layers of lenses and perspective. From my gaze onto my thumb, Graham's camera to my thumb, Graham's eyes to his camera, audience's to both of us, audience's to the projection, online eyes to the livestream and ultimately Robb who was maing important decisions in switching camera angles. The work becomes a social commentary of inter-mechanical gazes, one that I feel became very much apparent pos/during pandemic as well as its relevance to meta gay culture.
Time and ephemerality are also very important in my work and I think not just through physical duration but also how the online livestream exists only for a few days followed by how darrkness also shapes fleeting moments and the images it create.
The final part of the work was me positioning myself on top of the stainless steel table, followed by a wing or limb growing out of my back. Fleshy pink and fiery, it seems like earth, a virtual decapitated limb on operation table. My action throughout the evening was monotonous as I turned my body into a pedestal for the spoon and my hands dancing, interacting with each other.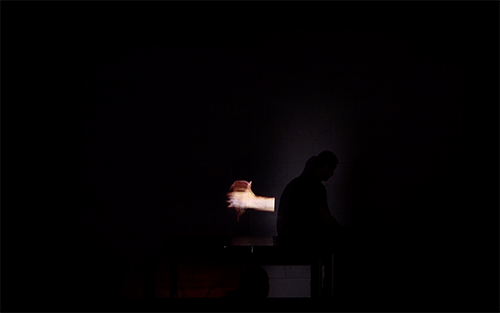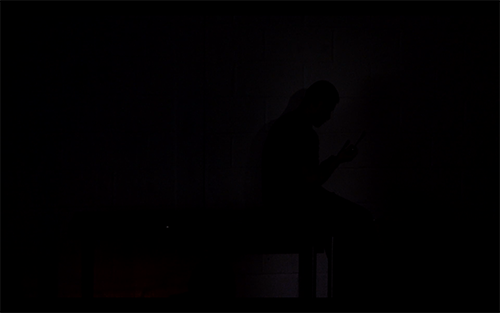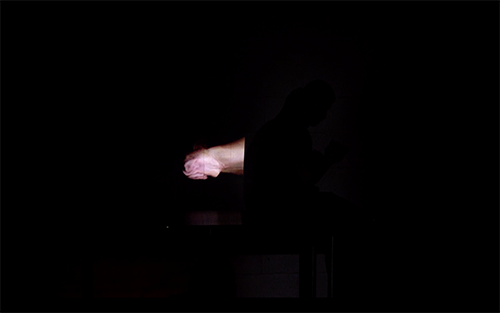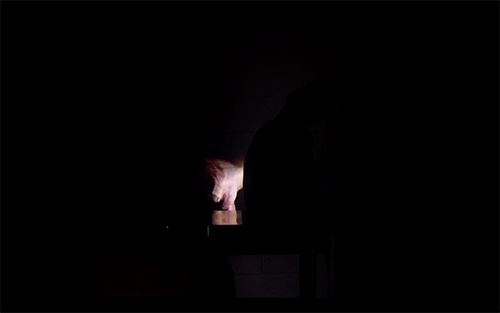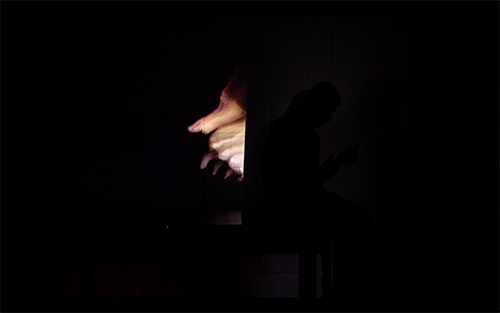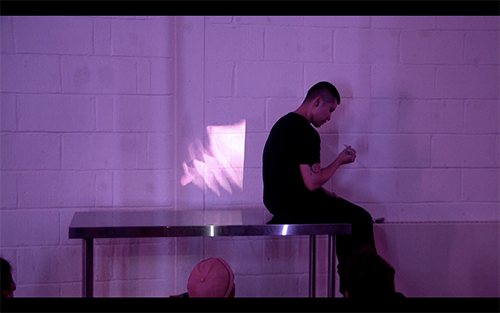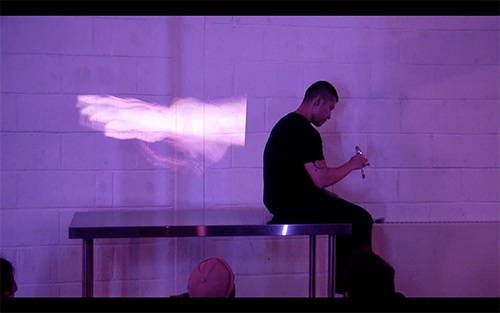 And comes my favourite part of making work, the 2d, flat visual representation of the performance: eternalized as a new series of drawings, titled Super Charge (study of Warm Palm), 15x21cm, pencil and digital print cut-out on paper, series of 6, 2021.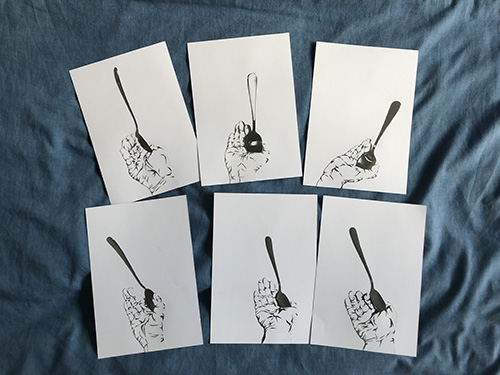 The past few months for me have been extremely occupied with sickness, part time job and other issues that I have been lagging behind on my drawing. To be able to come up with these six small babies were just mind blowing. I was overwhelmed and extremely inspired by the result- another tick for learning experience!
After Disturbance on the 30th, I was left with four more days to utilize studio 5 in LPS, and there I went to finish the trail of story for who leT The dogs ouT?.
Once again I am excited to be able to complete my aim for this opportunity as I successfully (at least for now) mapped out the bricolage of this story. I had expected this to be way more complicated and robust but due to time constraint, I feel like I am very much content with the different elements- which are already very varied. I will be reconstructing this floor map on my studio in Bomnb Factorry once this residency comes to an end and will be slowly working on the text script.
As shared last week, I had no intention to come up with the monopoly-like installation for this piece- but as the story depicts the journey of a (boy)man(person)demi-dog(dog)(puppy) who leave/run away/escape home/jail/kidnapping as he ages and question his goodness. The base narrative is an incident of high-fun encounter I had in spring 2020 where (as much as I remember it) I binged crystal meth for days without sleep and ended up having hallucinations of two kidnapped boys followed by an encounter with the police. By telling this story, I am not interested to discuss substance abuse or gay identities but I am hoping to share my perspective of growing up, of learning from (mistake?) experience, of being good and bad. The narrative is then followed by a well-known case of Andrew Gosden, who went missing at the age of 14 in 2007. Collaged elements that are included in the sketches are similarities that I share with Andrew.
Before we go deeper into the development of the narrative, the next few images are what I ended up with at the end of my residency with LPS. A square, monopoly-like board that brings (at this stage) myself on a trail of storytelling. I am thinking of keeping this floor format instead of the video collage from Who's a Good Boy? (2019).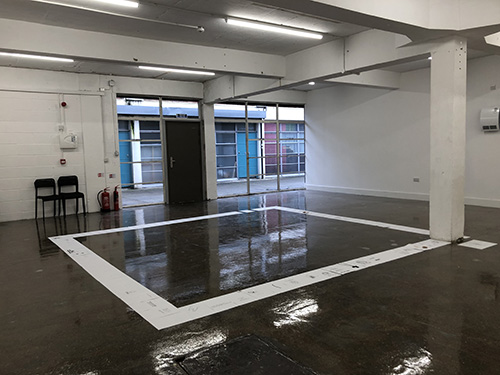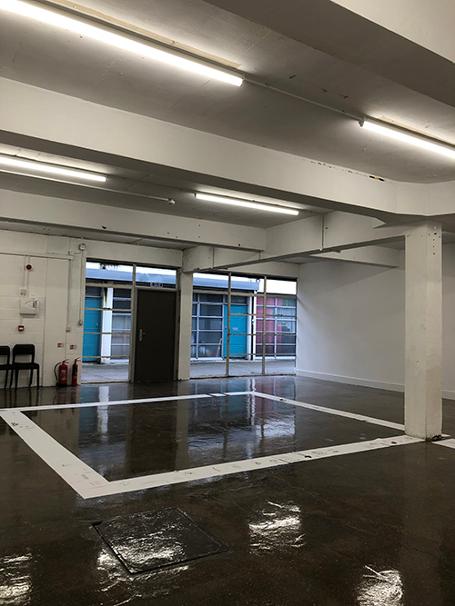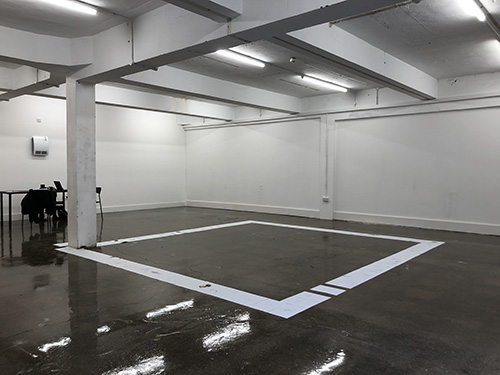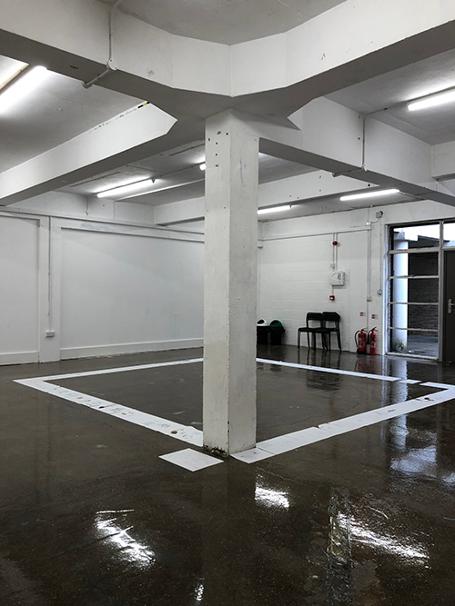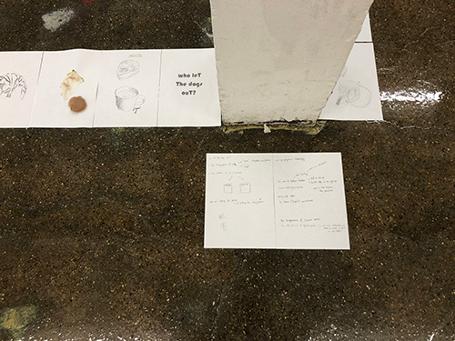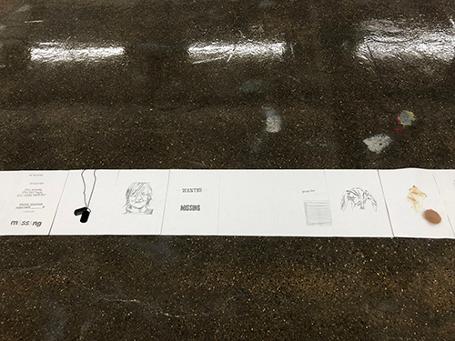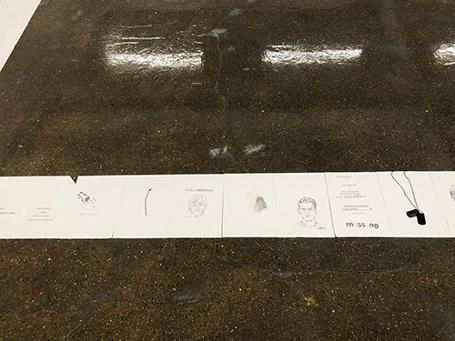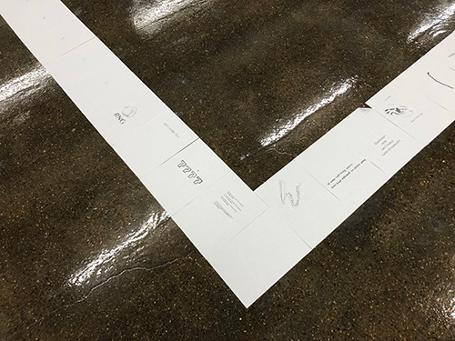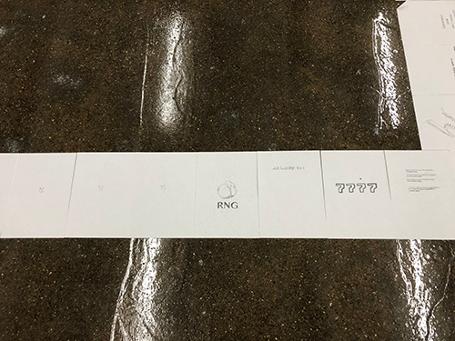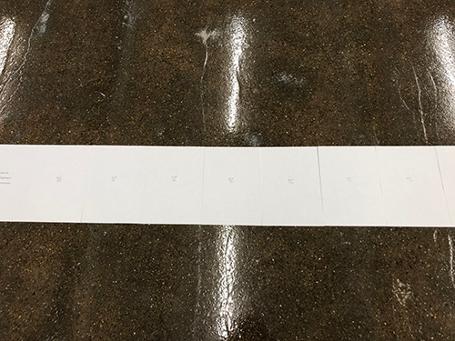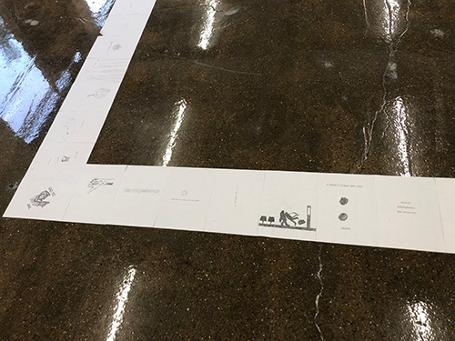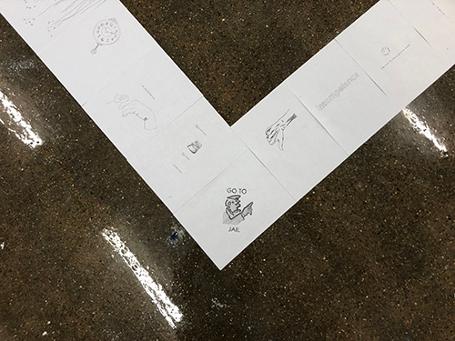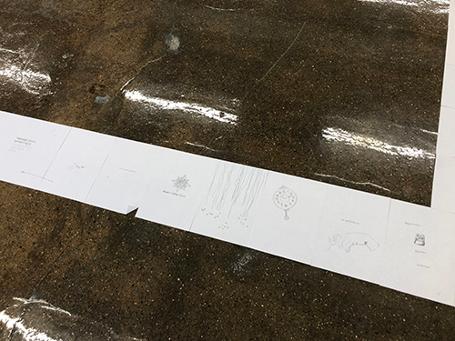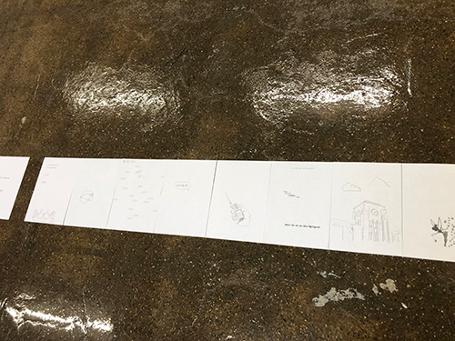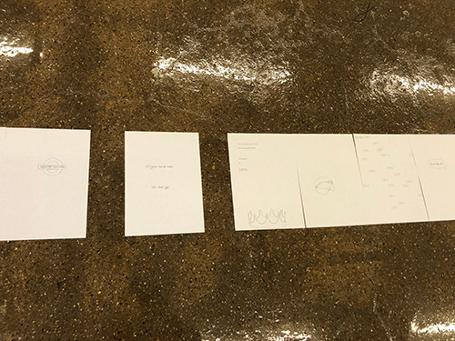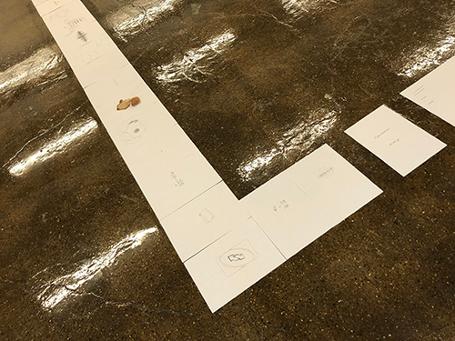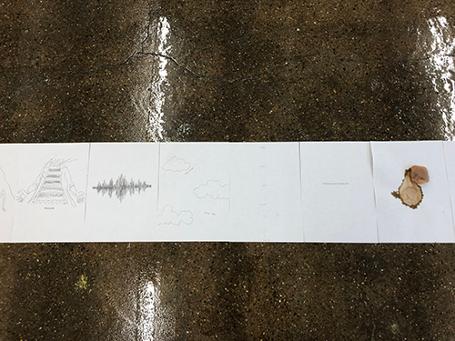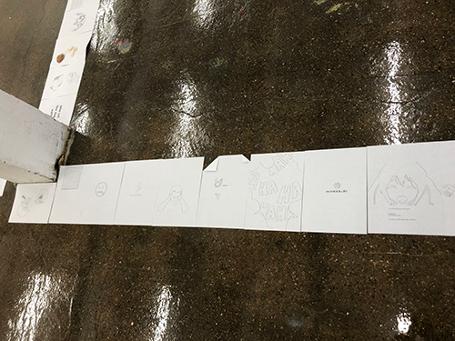 The story will begins with the incident of the evening. A body in motorcycle helmet carrying a cup of tea. He drops the tea, takes of his helmet and bangs his back against aluminium sheet. The loud noise is accompanied by PinocchioP's apple dot com lyrics spoken with synthetic voice.
A projection of a garage door opens followed by a news covering two missing boys.
This segment will give a fictional story of the missing boys and how they are identified by a peculiar shaped ear. The recurring symbol of the dog tags will also be involved in the story.
The story will then dwell into their ear and goes into the idiom of dog-eared book as some sort of synonym to an incident that is unforgettable and sometimes unresolved. A book appears and the reader, the performer recalls his story as 'I"
'I' talk about age of a dog and lucky number of 7. In the background, an. age-progression video plays.
The number 777 is also a reflection of probability, luck, encounters, RNG and gaming,
Age-progression technology video.
'I' then recalls a journey, where he was to meet a person. He takes a train, buy a single ticket and arrives in the train station where the person he met was waiting for him.
He then refers to the story of The Fall and Rise of Reginald Perin.
Something happened between him and the person that at one time he finds himself trying to hitch a ride home, naked waist-below.
A police car stops and put him behind bar.
As this happens, a flashing light is blinking, and he realizes his ear is shapeshifting. He remembers seeing a clock being repaired, as he was tied like a puppet.
One policeman speaks to him regarding missing boys and he mentions he wants to help him find the boys to get a golden badge.
'I' remembers again about the clock but this time it is as a clock tower. Like Peter Pan, he seems immortalized as a teenager.
The story is interrupted by a sound of walkie-talkie in the background that the missing boys have been found.
'I' remembers him wearing a collar begging a King to let him go.
'I' at King's Cross.
Trying to get a train ticket home beforre he gets arrested, but he feels like he is transforming into a steam machine, a robot. He starts to calculate the velocity of his transformation and the probability of him being where he was then. He then start peeing like a dog to remember this station/moment.
Luffy, I love America and America loves me, an accident, a crash. He remembers he escapes his captor as his high was crashing and he collapses like Icarus. He starts to see black and white stripes, like sound waves, which suddenly turns into a person tshirt, a prison doctor offering him an apple.
He starts laughing while realizing his ear is no longer human, his laugh slowly sounds like howling and the person tells him to shut up and locks his mouth, as another video projection of garage door closes.
The figure with motorcyle helmet appears again carrying the broken tea cups. Ends.
This is where my two weeks residency with Ugly Duck and LPS ended. Both opportunities have left me with tremendous amount of inspirational energy and new materials to continue developing the work. As I close this year's project and move my practice back to my studio, I am looking forward to be developing this work and hopefully it will be ready for presentation sometime next year.