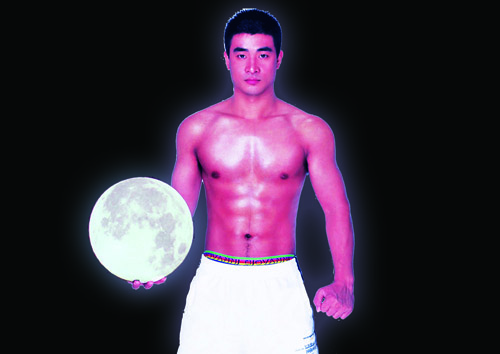 Wú Gāng is an immortal from the Moon who constantly chopping a self-healing bay laurel tree on the moon, in the hop of being a mortal. He has arrived prior to Sierra and joins the Blue Moon Village. Sierra eventually asks him to follow Hu Tianbao to aid Hou Yi and Feng Meng. With the help of the pill that Hu Tianbao discovers, he flies back to earth.
Eventually he joins GYM and builds a bathhouse for the army.

After the war, he follows Hu Tianbao setting up a village called Tsao and happily turning himself back to a mortal with Hu's pill. He continues to build bathhouses and spring houses, and discovers saunas for men only.
He bears the Chiretsu Star (地劣) also known as the Inferior Star (地劣星). In the original Shui hu Zhuan, this star belongs to Wáng Dìngliù (王定六) also known as Living Goddess of Lightning (活閃婆). In genso Suikoden, this star belongs to Sansuke, Pico, Goro, Taisuke, Miroon, Numnu and Mezuwal.
original folklore - The Story of Wu Gang

digital collage - Moonbath