site-specific performance responding to Chakra (2012) and Melati Suryordarmo's Studio Plesungan (2023) installation and archive room at Ikon Gallery with a bulb of garlic, a metal tea spoon, a pair of black boxer-briefs, stacks of white paper and Banpresto's Demon Slayer: Kimetsu no Yaiba FIGURE vol.26(B:Nezuko Kamado), approx.. 25 minutes, 2012.
performed at Ikon Gallery, Birmingham, United Kingdom for Present to Presence, a performance laboratory led by Melati Suryodarmo.
video documentation by Razan Wirjosandjojo.
translated into Dual Wield (study of Onion Knight: ATK), pencil drawing cutouts and digital print on paper with bite marks and dried blood as performance relic, 21x29.7cm, series of 18, 2023.
responding to Chakra, site-responsive performance with garlic, shallots, kerupuk, cooking oil packets, a pair of briefs underwear and matchsticks, approx.. 30 minutes, 2012.
performed at Studio Plesungan, Solo, Indonesia for Undisclosed Territory #6.
photo documentation by Vincent Chow.
video documentation by Studio Plesungan.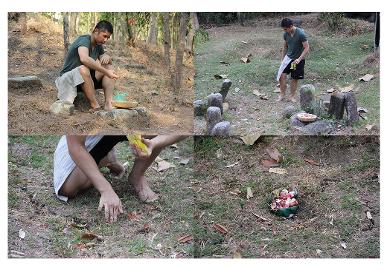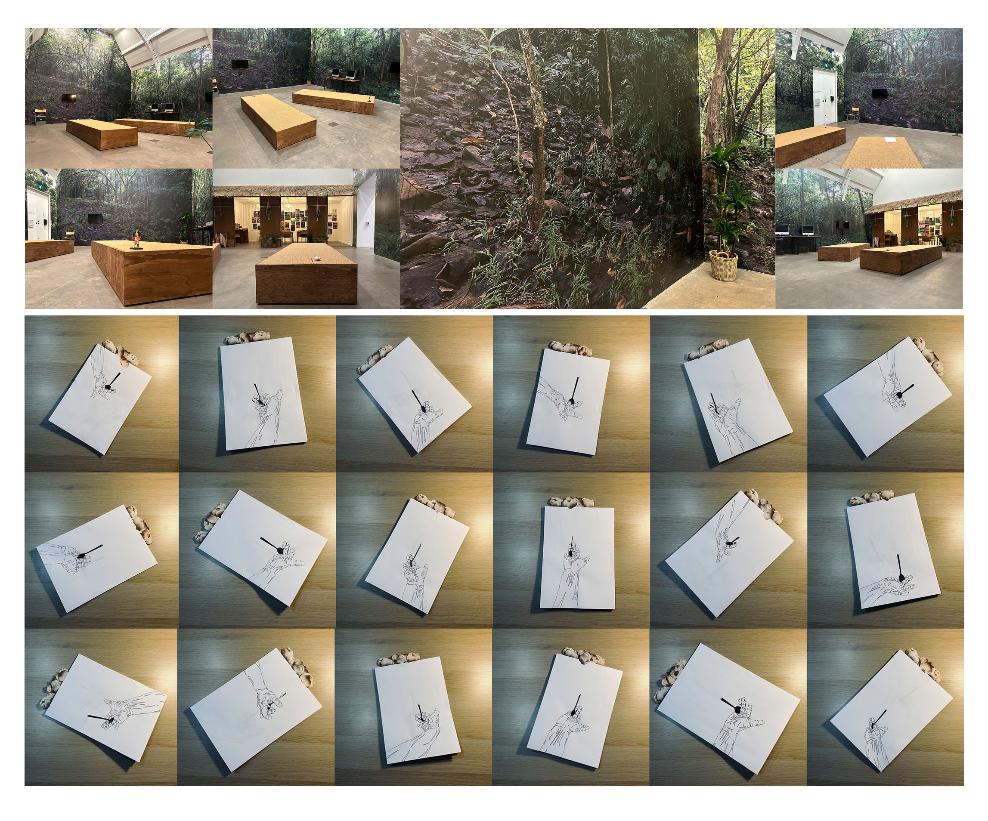 One of the exhibition rooms in Birmingham's Ikon Gallery has been turned into Studio Plesungan, then home of Melati Suryodarmo where she not only lives and works but also has built a tremendous creative and artistic community particularly with young performance makers in the region. As part of her first institutional exhibition in the United Kingdom, the room is embellished with human size wallpaper of the trees and natural surrounding of rainforest habitat that encapsulates her sanggar back in Solo, Indonesia. With recorded nature sounds of rain and birds chirping directly from the site itself, the room has become a very interesting transfer between Solo and Birmingham. It is both fake but also honest and humbly real. Studio Plesungan is also the home of Undisclosed Territory, a used to be annual performance art festival directed by Suryodarmo herself and the documentations of hundreds performance artists that have participated in the festival were also present as a rich archive within the exhibition room.
Kelvin has been invited to the festival in 2012 and 2014. His first participation was also his first foray into performance festivals and Here I Come! Is a reflection, a revisit or perhaps a critical return to one of his earliest work, Chakra- presented within the grass fields of Studio Plesungan.
In Chakra, the performer began his performance by peeling cloves of garlic and shallots, stuffing them into his mouth, almost like a chipmunk. He then found himself a spot for a ritual, forcing his hand which was lubricated with cooking oil into the crevasses of the land's dried soil. The action was indeed sexual and playing with the idea of gender roles but at the same it was curiously geo-relational. He connected the human breathing flesh, motorized hand aided with mass produced item with (so to speak) mother earth. He then stripped off his underwear, stuffing it into the creases and decorated it with fresh garlic and shallots before attempted (to a rather failed one) to set it ablaze.
Here I Come! revisited that experience, that (arguably) failure, that immaturity. Almost like re-reading an old manga or replaying an old video game, it was a reflection and a challenge to measure the artist's growth of performance craft over ten years. Kelvin was interested to evaluate if his language persists, how much it has developed, his body changed and the performance evolved.
The performer began with a bulb of garlic on his head as he started to acknowledged his audience. He stripped his headdress and started to jam his ring and middle fingers into his mouth, distorting his facial features. The two fingers started to move as a singular object with a distinct gesture. The image of his hand almost like a claw but also was limiting his movement with rigidness. He then balance a metal tea spoon in between them and as he walked around the periphery of the room, it was noticeable that his mobility was also restricted. On his calves are a pair of boxer brief that created tension while he took his step. It slowed him down and time seemed to be extended. The tea spoon glistened and reflected both occasional lights with the contrast of its material. It was also like a drop of saliva frozen in time.
In the room was also a pair of wooden beds covered with rattan on their tops. The two brown earthy slabs became a reminiscence of Plesungan's soil. Their rigidity, slightly uneven texture and dry smell became a vital material for the performance. He then stood at an end of one, picked a stack of whiter paper, rolled them in half and mirroring the canonical narrative of Demon Slayer's Nezuko; which action figure was then sharing the same wooden bed with him, bit the paper. The tear-drop or perhaps garlic clove-shaped mouth guard further silenced the already mute actions.
With his new armor equipped and with his two-fingers sharpened sword he began moving one of the bed towards the other. The weight of it was visualized through the stretching and tension of his leg and hand muscles. His body became a construction machinery- that could be perceived as both a creator and destroyer. His grunts and heavy breathing were amplified by the mouth guard and soon subsided as the two beds were side by side, separated by an inch gap between them.
The final part of the performance brought it back to Chakra as he climbed on the beds and inserted his two fingers into the gap. Moving backwards, he dragged his sword, almost like slicing the rattan slabs, crevassing the earth. Finished and satisfied with the journey, he quietly left the room.
Chakra was a work that attempted to position a masculine energy within the earth. By introducing a second element of fire with a collection of local feminine-heavy lore, the piece within its societal context, was a plea towards gender prescription, particularly within the Indonesian or Southeast Asian context.
Here I Come! followed a similar chain of thought. The masculine presence led the audience's consumption of the piece and the earthy element- no matter how charlatan, left some bread crumbs for thought. The action figure with her canonical backstory was fiery counterpart which context was only digestible by those who shared the interest. By conceptual prescription, the work was an invitation to considering geo-masculinity but presented, and approached through a wider lens- globally in relation to current climate.