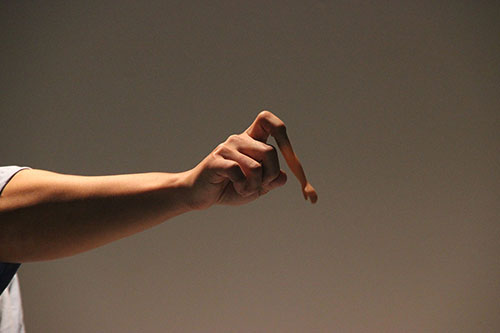 Ahhh, the face you wore the day you--- frost silences memories as they slowly thaw themselves into existence.
The performance is presented under a huge modular paper installation, accompanied by a toy figure. With a plastic toy in his mouth, the performer will repeat a single action: shush gesture, proposing on whom exactly he is silencing, himself, the toy figure or the audience. He will also periodically move, almost dance-like within the installation, accompanied by a looping soundtrack of Square Enix's Final Fantasy XV as a homage to Gentiana , a character whom this work is inspired by. At times, he will also place ice cubes closely to his mouth. Accompanying him is another bootleg Ken doll with a similar costume, almost like a miniature doppelgänger standing idly, to be either mildly recognized or simply ignored.
Within social context, the video game-influenced performance is a romanticized plea towards the numbing constructions upon masculine identities, self-inflicted or otherwise.
performance - Ahhh, the face you wore the day you---