At the end of November to first week of December, I will be undergoing two residency programs with Ugly Duck (23-30 November) for their @Disturbance performance program alongside a Seeding Space studio grant with London Performance Studios from 22 November to 4 December. I had submitted a rather similar proposal for both opportunities, as I am planning to revisit Good Boy from here onwards, looking at ways to conclude my MA thesis project with RCA. The direction of Good Boy has evolved since its inception in 2018, followed by a disrupted progress due to the pandemic in 2020. It has since put on halt, and have shifted its mode of presentation from an object-based installation with living sculptures to attempts in finding its way into the digital realm. The pandemic has also resulted in me revisiting video gaming that involves a deep lore of JRPG theories but moreover, the world has changed and I would like to use this opportunity to kickstart how Good Boy can respond to these changes.
Ultimately, I doubt I will finish this project but have since taken this narrative as a form of personal development and further creative endeavor. It has become a project that does not necessarily look for a conclusion but a mean of experimentation and constant discoveries.
Initially, I had planned to spend two weeks in LPS to develop the third chapter of Good Boy monologue- or sort of. The first titled Who's a Good Boy? (2019) was an epistolary reading performance that was developed for Athens Festival of Queer Performance. The piece was an accumulated result of the project Good Boy, by which during the time was in the midst of its conceptual development. The monologue was an attempt to revisit a project LIAR vol.3 which was directed by Agnes Christina and presented in Kedai Kebun Forum, Jogjakarta, Indonesia in 2016. I had enjoyed the format of non-linear story-telling that is somewhat a cross between performance art and contemporary theatre. When the opportunity arose of such possibility, I proposed the piece and throughout the development of telling the story of this demi-dog persona, I was remembered of a previous project developed in 2012 titled Tangkuban Perahu. Realizing the similarities of the demi-dog character, I decided to combine to two narratives together (one which is the Sundanese folklore, one that I grew up with as well as has familial history within it too, and two, the homoerotic prose that inspired the project Good Boy at large).
While the performance was unfortunately undocumented, the collage video projection that accompanied the reading can be found here:
As well as two images of the 'stage' or the 'performer':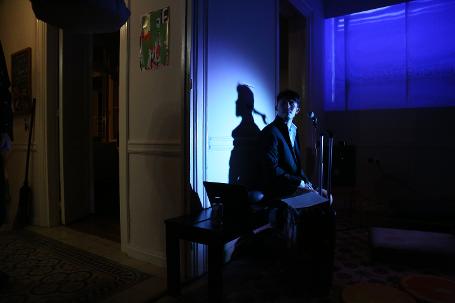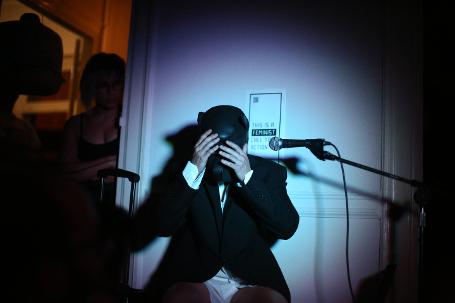 This costume was important in this performance, as the performer took the role of a traveller in transit. I paid reference to a 'businessman' kind of figure with dog mask. The latter however is an element I try to distance myself from, but also the idea of headless figure was something within the research materials which by that time had stretched towards transhumanism, particularly inspired by Mark O'Connell's To Be a Machine.
The headless figure, not only that a demi-dog is often portrayed as a dog-headed figure with humanoid, bipedal figure, it was also an attempt to bring forward the image of cryopreservation and technological brain bank. Of course within the context of masculinity, a bottle of Abercombie&Fitch's famous cologne, FIERCE was also accompanying the performing body during the reading performance.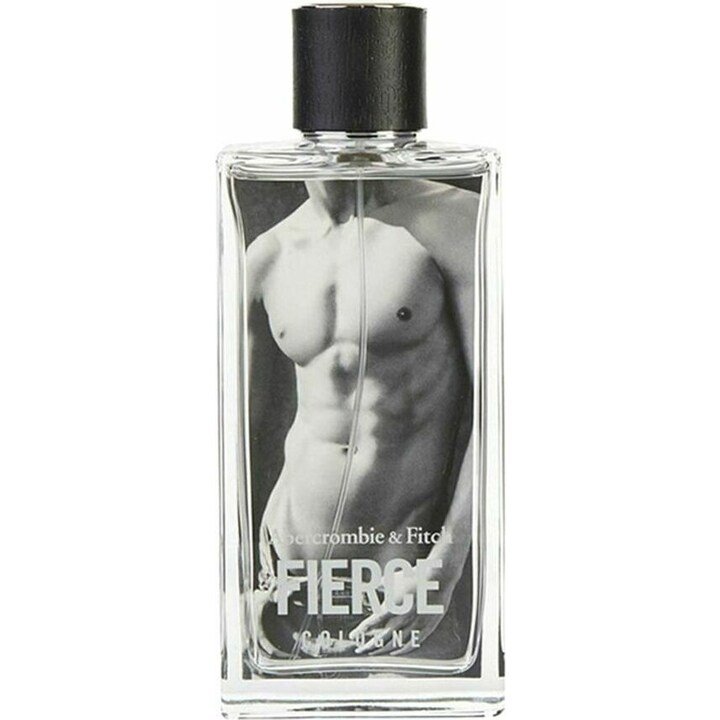 The narrative was also brought into In Between Time festival in Bristol prior to Athens where I had the privilege to work with Manuel Vason for photo-performance exploration.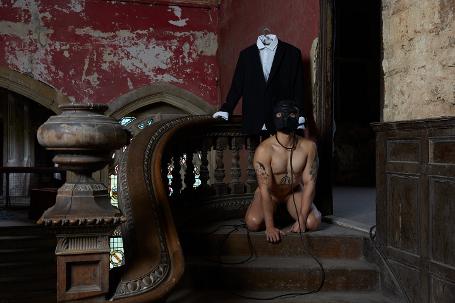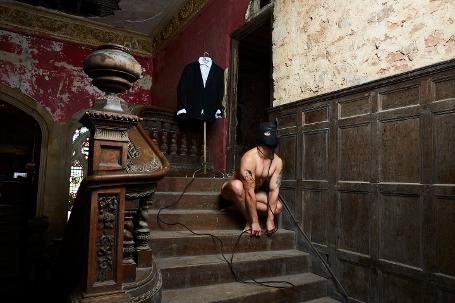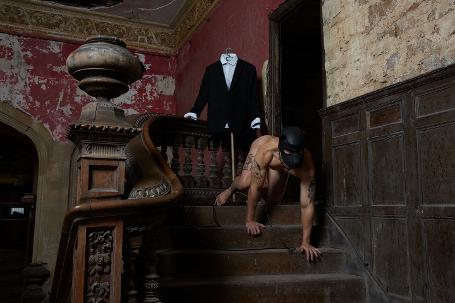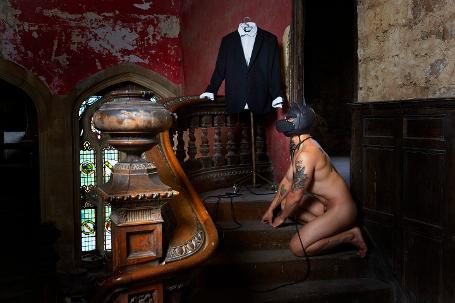 Apart from those study images, the residency with IBT also pushed the project to explore texts. Text was something I was very much interested in even at the very beginning of its exploration. One of the performance element which I was and maybe still am adamant about was the action of writing lines. Such activity was often used as punishment in schools, as one was tasked to write a phrase repeatedly. For me this action was exciting as the notion of repetition reflects my interest in long durational performance but also the result of memorization of script, one that I personally struggle with in relation to theatrical aspect of performance crafts.
During one of the earliest studies of Good Boy, writing lines have been a focus which was attempted (to a huge failure no less) during Work-in-progress show in term 2 of my first year in RCA.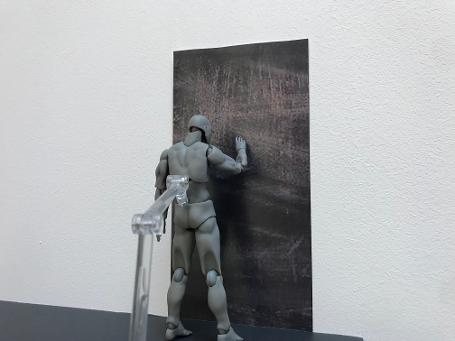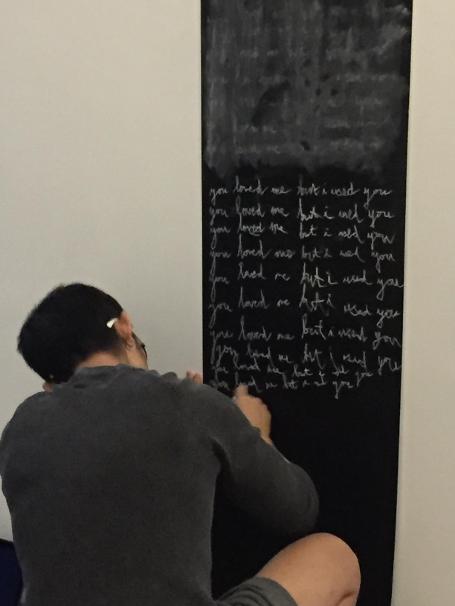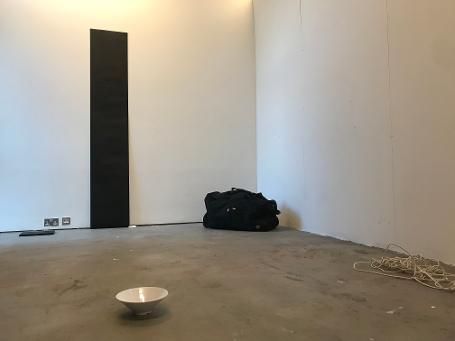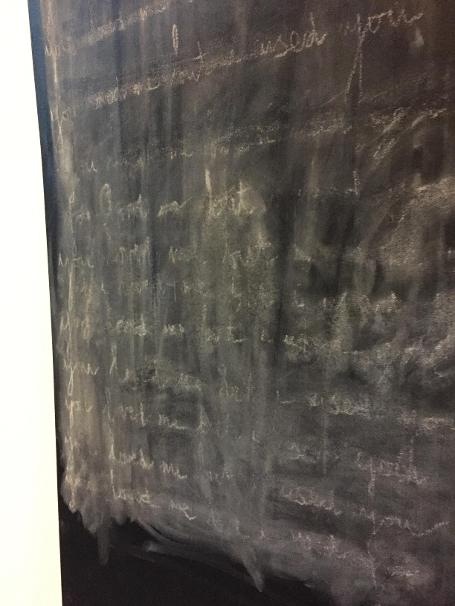 The action however, eventually accumulated into a separate series of work titled /command.text that is both the beginning of writing works as well as gestural representations. The works were shown digitally for RCA's online graduation show but has since been incorporated into my latest work with VSSL here. Some samples of the first six commands here: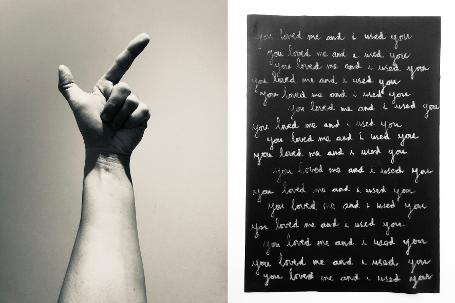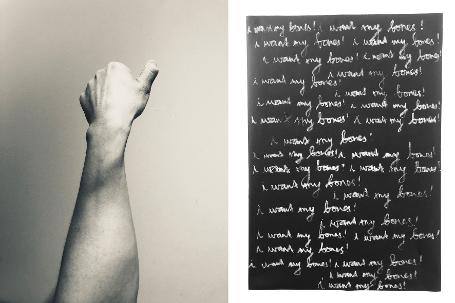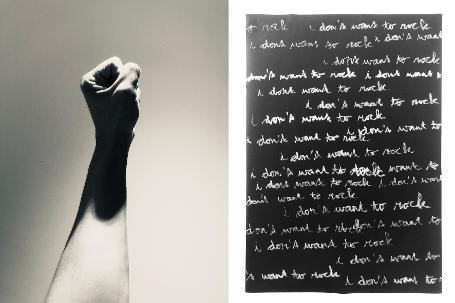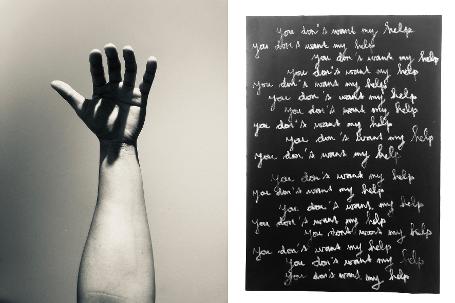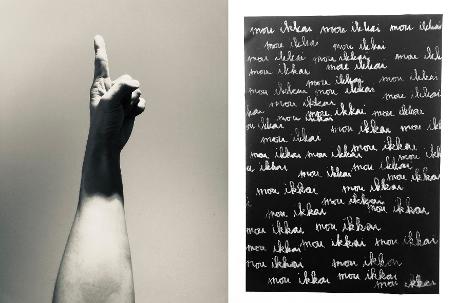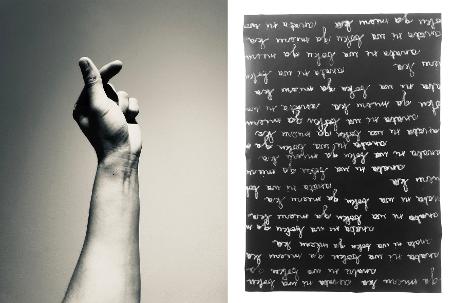 These works eventually led the project into its second performative work, titled I'll be a Good Boy (2020) which was specifically designed to exist within the online realm. The work was divided into 2 section, one is a series of texts in forms of Whatsapp messages. I had received a series of messages from a random person back in Indonesia that was eerily requesting dog-master sexual relationship. This was during the period when I was exploring similar theme as part of Good Boy's journey. The text messages (around 40 of them, most of which were in Indonesian) were delivered from my Whatsapp to audience's number. The action of typing and sending texts, alongside the pauses and timing became a performative action. It was a challenge to execute this 'performance' but an instruction was posted on my RCA graduation show artist page here.

The second part of the work is a gestural piece for portrait-format screen (phone based application like video calls and Instagram for instance). It was a movement piece of my hands clasped as if I were praying, but both of my thumbs protruding out, like giving a thumbs up. Dangling below is a dog tag chains like a rosary and the action is accompanied by a computerized voice reading the texts messages, almost like a prayer. This element was presented as a nightly prayer in Instagram throughout the duration of graduation show and have also been shown in Online Performance Festival (2020) and recently Spill Yer Tea#5 (2021).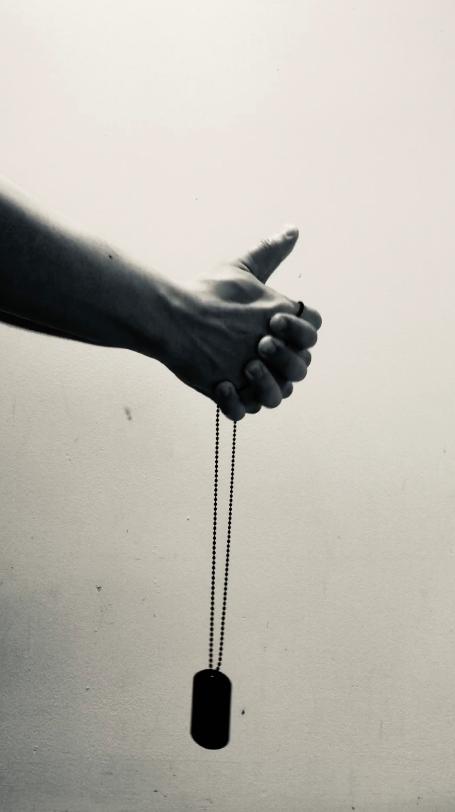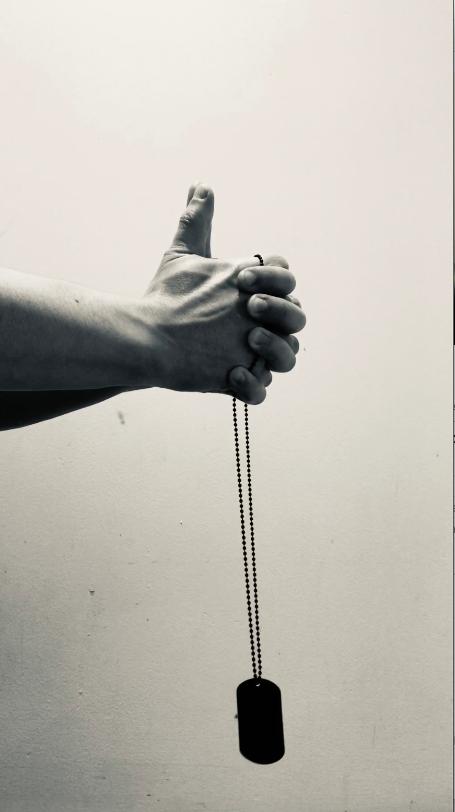 Good Boy on the other hand was meant to be developed as a sculpture-based installation accompanied by a living sculpture performance and a blueprint of an architecture that is inspired by the body and its organs. This was the proposal that I had submitted to LPS but due to the opportunity to develop the piece with Ugly Duck as well as my time is currently divided with a part-time job, I will use the residency as a contemplative period to refresh my memories of these materials and narratives that I have amassed over the pas three years. During the pandemic, I participated in a six-months development program with Tempting Failure called Changing Room where I wanted to experiment on online-based performance and the possibility of presenting this narrative into a Discord-like online workshop piece. It was a very productive exchanges with guidance from Tempting Failure's teams as well as nine other practitioners however I personally found the period of lockdown was exceptionally difficult to maintain creative output. That very inspiration mixed with struggle eventually motivated the attempt to revisit this narrative.
At the stage of this blog entry, I am planning to develop the third and fourth chapter of Good Boy performance, one titled I'm glad you're evil good too (2021) with Ugly Duck followed by an attempt to start who leT The dogs ouT (ongoing) with LPS.